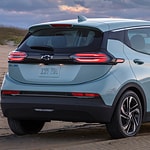 The 2023 Chevy Bolt EV at Solana Motors offers impressive safety and convenience features, making it a great choice if you're looking for an electric car with great technology.
Come to our dealership today and learn why a 2023 Chevy Bolt EV might be perfect for you! Our knowledgeable staff can assist you in finding the right vehicle for your needs and budget.
Impressive Safety Features
With excellent safety features, the 2023 Chevy Bolt EV will keep you and your family safe.
Besides ABS and partially regenerative braking, it also features four-wheel disc brakes with electro-hydraulic