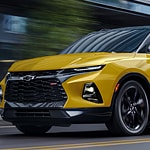 The Chevrolet Blazer is a versatile SUV that delivers superior capability, whether driving on the tarmac or off-road. With its 3.6L V6 engine, you can power through the most challenging terrain, and a set of 18-inch wheels gives it an aggressive new look in front. The 2023 Chevrolet Blazer is perfect for exploring the environment and gives you the ultimate performance for navigating the landscape.
The new Blazer is packed to the roof with innovative technological features that keep you secure and informed. The Dynamic Stability Assist system takes over the car's handling in extreme conditions, giving you the confidence that your vehicle will stay on course.
In Off-Road Mode, your Blazer can tackle rugged terrain up to 25 miles per hour. Even in this mode, navigation is still manageable with a sizeable eight-inch touchscreen. With Bluetooth technology, you have a hands-free connection, making it easy to take calls or listen to music while driving down the highway or on a dirt road.